Specialists for over 15 years in
Bathrooms Plymouth. 
We care about your home.
Firstly, we are the best bathroom installer Plymouth has to offer. As a result we get amazing reviews. Secondly, We have been supplying and installing, luxury, yet affordable designs to customers throughout Plymouth and Devon since 2006. Lastly, our experience in bathroom refurbishments means you can count on us delivering flawless bathrooms to last the test of time.
Bathrooms Plymouth. 
Like a tailored suit our service is adapted and customised to your needs. For instance, on a building site or in an occupied property we adapt to ensure our service is individualised to you, the customer.
From protecting your carpets to leaving your home in pristine condition. Therefore, our professionalism will give you a smile throughout the whole service. Our team of expert bathroom fitters will go above and beyond to create your dream bathroom.
We can guide you to a huge range of bathrooms products. Such as flexible anti-vibration adhesive, and Nicobond epoxy grout. Undoubtably, using the correct products to ensure you have a bathroom that looks amazing. But not just upon installation but for years after. Subsequently we able to sculpt a variety of modern, traditional, and contemporary materials. This then enables us to create your vision effectively.  We also have the ability to include granite, glass, wood and many more materials into your design.
The latest bathroom technology, inspiration, and ideas, such as underfloor heating and waterfall taps can be excellent additions to your creation. Without a doubt giving an up to date modern feel. Finally, we can run your installation smoothly and efficiently, keeping you updated through each step.
Give us a try, today!
A splash of luxury!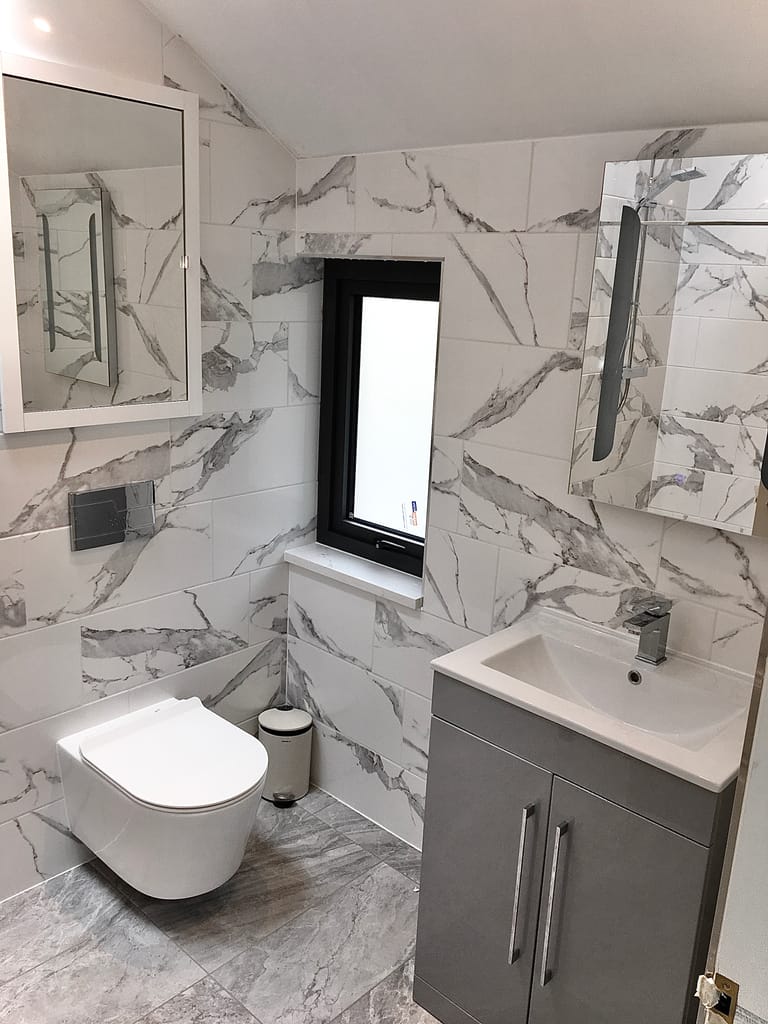 Is your bathroom a bit dated and tired?
Or do you want an en suite.
We tailor a design and installation that works for you. We take excellent pride in our work. This means, compared to other bathroom installers, our attention to detail is unmatched. Therefore, our reviews are five star.
We're proud of our service. Consequently, we put you first. Meaning our first priority is leaving you happy.
A Rated Bathrooms offer a variety of services. These include design, installation and supply of products and materials.Check out this video of two Luxury bathroom installations
Our services offer a no obligation quotation, including free tile calculations. Whatever your needs, the results will ensure a quality bathroom to beautify your home.
Our passion and eye for detail means ensures we create truly unique bathrooms. Each one will make a statement and stand out from the crowd. We are proud to accept and complete any challenge presented to us.
We are able to source materials that are different and unique. Thus, creating you a bathroom that is specifically made for you.
Feel free to give us a challenge.
Above all we won't let you down. Ensuring you can leave us a 5 star review.
Building Inspiring Spaces
Bathroom design and installation service in Plymouth. We certainly aim to keep our customers happy by offering only the best service and products.
In addition. You can see this in our amazing portfolio of bathrooms, wet-rooms, and shower enclosures. Small details. Such as bathroom accessories make a big difference.
Not only do we build amazing rooms but we protect your property throughout as we build them.
Furthermore Bathroom fitter Plymouth and all surrounding areas.
Including Devon, Cornwall, Noss Mayo, Salcombe and many more.
All you have to do is contact us for a free quotation. To have a bathroom that's beyond luxury.