Something a little different
One of the wetrooms we recently installed alongside bathroom fitters Plymouth wet room solutions sw.
Firstly the customer decided to go with a unique castle style theme to fit in with there stunning property situated in burrator.
Also the furnishing and finishing pieces came in brass and copper effects giving the wetroom a warm classical presence.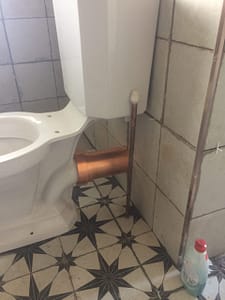 luxury wetrooms require attention to detail that only expert bathroom fitters in Plymouth A rated bathroom can provide.
Upon noticing that the modern plastic soil pipe connecting to the toilet was just not going to blend in. In order to keep with the unique style of this wetroom. we crafted a copper one to blend right in.
Brass effect shower valve , hair washer and head

Laura Ashley worn effect tiles
This wetroom is truly one of a kind. As such it incorporates modern day techniques used to create tiled wetroom floors such as epoxy resin grouts from Nicobond. While fusing them into this classical theme. As a result the advantage of a perceived larger floor area.
Additionally tile trims blend perfectly with selected furnishings such as the copper radiator and brass mixer shower. Because the details were not overlooked or rushed the finish on this wetroom is of the highest standard.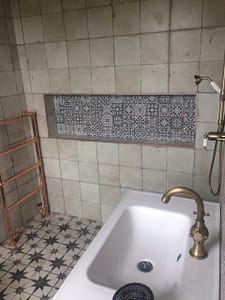 This wetroom is an example of how we can use our expertise as one the best bathroom fitters in plymouth to create a truly unique room. Also it blends to the character of the property. Although this was an older style installation. In fact we do a lot of modern bathroom refurbishments.Also installing brand new bathrooms in newly built property's. Take a look at our photo gallery.
Additionally our reviews show that our bathroom installations match our customer service.
Check them out below.