Bathroom tips!
Bathroom tips From the professionals at A Rated Bathrooms.
Firstly let's get the property protected.
Start at the closest and easiest property access point. Usually there will be some furniture Or pictures on the route to the bathroom. Without delay carefully remove these and put them in a safe place.Next if you have carpet then a suitable sticky plastic film can be applied to these areas. For solid floors. Such as wood or tiles we apply antinox corrugated plastic floor protection and tape down any edges.this can be purchased from you local Toolstation.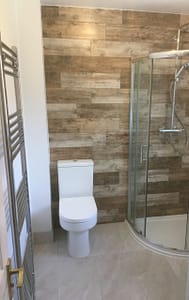 Plumbing works
Turn off the water supply! Open the taps upstairs and downstairs and flush the toilets this will slow the water to drain. Additionally for a system with a cold water storage tank the tank can either be fully drained or use a suitable bung to save water.
Once drained remove all of the sanitary items. Large items. For example The toilet can be split in two pieces. By undoing the wing nuts underneath. The bath (if fibreglass) can be cut into two sections if necessary using a jig saw.Also remove the bath legs and taps to make removal from the property easier. Even though you have drained the water this will not drain any radiators. After all it is a separate system.we are doing a separate post on radiator removal.
Tile removal
After this you should have a lot more space in the bathroom.Because of this we can now begin to remove the wall tiles. Rather than starting in the middle start at the top. In the event that multiple tiles fall there will be less chance they hit you.to remove the tiles a hammer and bolster can be used. For more stubborn tiles we use a kangol. Use heavy duty gloves to bag the broken tiles. Be careful they will be extremely sharp. Either use commercial grade bags or double the bags to prevent splitting on the journey out.