Bathroom technology is Here to Stay
Ever wondered what a bathroom in the future might look like? Firstly bathroom technology has taken bathrooms to a completely different style. Due to new tech that include more customizable and programmable features than ever before. Bathrooms and wet-rooms of the future are certainly not boring. If you would like to transform your bathroom into a space of luxury and relaxation, here are some things to consider. Technology to Incorporate into your design. Glass fully customisable splash backs. Also these can come in a huge range of colour. For example Amarda glass  Offer a fully customisable service. Including prints of any design. Another modern material is corian. It comes in a huge range of designs. Some replicate granite. Also it's easy to clean And scratches can be easily polished out. We like to use it on window sills And boxing's.
fully tiled wetroom floors. For keeping floors at one level. Additionally these make the room fell bigger. Another gadget is blue tooth inset speakers. While showering you can also get your groove on. Similarly there are now inset waterproof tv's. So you can watch your favourite music video or chill in the bath.Lastly for visual effects try installing something. Such as colour changing.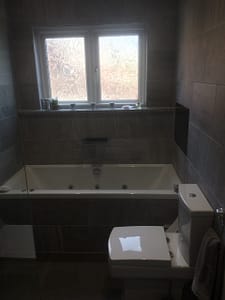 Modern Homes Demand Smart Technology
A lot of first time home buyers are now looking for property's that contain smart technologies. such as central heating controlled via your phone, smart underfloor heating and even phone operated ovens.
These technologies are now making there way into or bathrooms and the results are amazing. See more in our Photo gallery
Inset fully waterproof high definition televisions

blue tooth hidden speakers

Smart self learning underfloor heating

Heat sensing colour changing taps
Bathrooms are not only a place to get clean and fresh for work. also They can be a place to relax and revive.
Consequently modern technologies are helping us to do this. For example listening to your favourite music while having a shower. Or watching the latest soaps while soaking in the bath. A rated bathroom are using this Bathroom technology in our bathroom installations throughout Plymouth ,Salcombe and Noss Mayo and are customers are loving it!
This Trend is Set to continue
A rated bathrooms plan to continue to move with the times. Whether it is the current modern styles. Or the latest bathroom tech we are at the forefront and will continue to push the boundaries of what is possible within a wetroom bathroom or shower room ,